Study shows #1 home buyer fear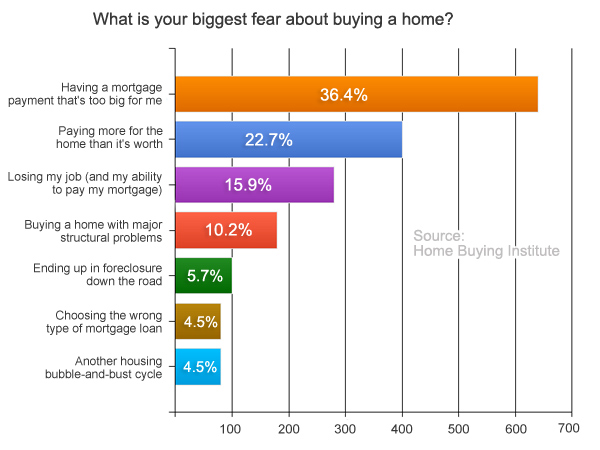 The Home Buying Institute did this great study to see what concerns you most.  We see the same fears from the first time buyers in our classes and those we help buy homes and they are very real and valid concerns.
What can you do about these fears?  Fight them with facts!  Lets take the top three and give you some thoughts:
1.  Having a mortgage payment that is too big.  It can be scary to commit to a large monthly payment, but really, haven't you already done that by renting?  Rent is a cost you will have forever unless you buy a home and it will only go up over time.  Average rent has increased by 5.18% per year since 1960, that means your$1200 rent today will be $1821 in 10 years- ouch!
2.  Paying more than its worth.  Another great concern!  We wrote an article on just that on our website at http://www.fearlesshomebuyer.com/lesson/3-ways-to-decide-how-much-to-offer-on-a-house/.  Want the short version?  Do Your Homework! With your buyers agent, compare the home value to recent Sold homes to know the true value.
3.  Losing your job.  Please, do not buy a home if you think this is very likely.  But, if you feel confident that this job or another like it will be there for you for years to come, the time to buy has not been better in decades.
When the time is right for you, buying a home can be the one of the best decisions you ever make.  Give us a call or email if you'd like to talk about your plans and questions.
Dave & Ryan
Homebuying 101
503-523-2477
[email protected]axnessandkofman.com
[email protected]
www.axnessandkofman.com
fearlesshomebuyer.theportlandcompany.com
Upcoming Homebuying 101 Class Dates:
www.portlandhomebuying101.com
Study shows #1 home buyer fear
was last modified:
August 30th, 2020
by